Stibbles' Codex: Mimcat Plushie
$29.99
Mimcat are tiny relatives of the mimic, that have learned to sacrifice size for mobility.
Their demeanor is much more mischievous and coy than their deadly relatives. Mimcats can take on the forms of tiny living creatures, and find the appearance of a cat the most enjoyable! Have a hug with this soft, cute and utterly adorable Stibbles Codex of Companions character as they bring the world of Stibbles to your room, gaming table or shelf!

(All Plushies are 250mm scale soft plush toys)
FEATURES:
Size: 23cmx22cmx12cm
Weight: 0.232Kg
This Product is only available in English at this time.
In stock
Additional information
| | |
| --- | --- |
| Weight | 0.232 kg |
| Dimensions | 23 × 22 × 12 cm |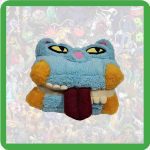 Stibbles' Codex: Mimcat Plushie
Your review
* Review is required
Email
* Email is required
Add photos or video to your review
* Please confirm that you are not a robot