Quest-O-Nomicon [Hardcover Book]
$49.99
The Quest-O-Nomicon is a compendium of adventures chronicled by Ser Nominus, a clumsy skeleton with a knack for sudden and painful demise! Created by the Team at XPtoLevel3, this tome features perfect beginner adventures to get your party started on a new 5th edition adventure!
Explore 30 different stories and 30 different adventures as you sample Ser Nominus's favourite epics and tales!
The stories held in this tome are customizable, so whether you're a group with years of experience, or a new GM looking to introduce some friends to Fifth Edition, there's something for everyone in the Quest-O-Nomicon.
The Quest-O-Nomicon Includes:
30 total adventures designed to be run for level 1 characters who level up after each adventure-part.
Magic Items available for each adventure for your players to enjoy
Creature and NPCs precisely built to feature abilities or create a narrative within the story of your adventures
Character Bases, homes and sanctuaries for your players to settle down after a day of adventuring!
GM tips and tricks on running 5th edition adventures
FEATURES:
Size: 29cmx22.5cmx1.8cm
Weight: 1Kg
Pages Total: 249 pages
This Product is only available in English at this time.
In stock (can be backordered)
Additional information
| | |
| --- | --- |
| Weight | 0.9 kg |
| Dimensions | 22.5 × 28.9 × 2 cm |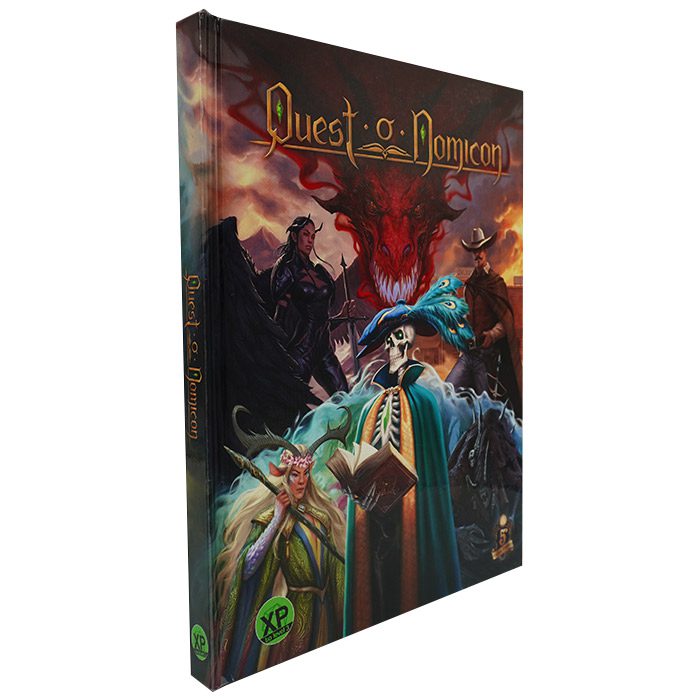 Quest-O-Nomicon [Hardcover Book]
Your review
* Review is required
Email
* Email is required
Add photos or video to your review
* Please confirm that you are not a robot